If you want to explore the surroundings by bike and get to know the many cycle routes that Almere and Flevoland have to offer, you can rent a bike via Go-sharing.
You can rent these bikes via an App and they are parked right next to us.
Via the following site you can read how this works:
nl.go-sharing.com
ALMERE CITY ROUTE 30,3 KM
Discover Almere in the best way! This bicycle route of 30.3 km leads you along all the facets for which Almere is known.
Through the creative Filmwijk, to the bird-rich swamp area the Lepelaarplassen and finally a visit to the architectural highlight Almere Citymall. 
This route starts at VVV Almere.
Address: VVV Almere: De Diagonaal 199, 1315 XM Almere.
BIRD'S-EYE VIEW ROUTE 27.6 KM
Are you a real nature lover? Then you must have cycled this route. The route of 27.6 km starts and ends at Nature Experience Centre De Oostvaarders, from where you have a beautiful view over the Oostvaardersplassen. 
With a bit of luck you'll even see a white-tailed eagle fly by! During your cycling tour you will pass a lot of special pieces of Almere nature.
Address: De Oostvaarders nature experience centre: Oostvaardersbosplaats 1, 1336 RZ Almere.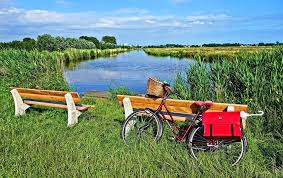 LANDSCAPE ROUTE 32.8 KM
Discover the beautiful nature of Almere with the Landscape Route. This 32.8 km long route takes you through a very surprising part of Almere, where greenery predominates. The route starts and ends at Stadslandgoed de Kemphaan, where you can rest from your long bike ride at Dubbel-Op or Buitengewoon Lekker. Or stop along the way at one of the nice restaurants in the Havenkom and enjoy a drink on the terrace.

Address: Stadslandgoed de Kemphaan: Kemphaanstraat 1, 1358 AD Almere
NOORDERPLASSENROUTE 18 KM
This bike route is perfect for a beautiful summer day! The 18 km route starts and ends at BoatHouse. So you can rest from your efforts with a nice cold drink on the waterfront terrace.
Don't feel like cycling? That's not an issue.
The route is also perfect for skating! There's plenty to see during your bike ride, because you'll be riding through the most beautiful bits of green in Almere.
Address: BoatHouse Almere: Noorderplassenweg 150, 1316 VV Almere.
          For all cycling routes in and around Almere please visit: https://www.visitalmere.com/nl/ontdek/fietsen/fietsroutes.