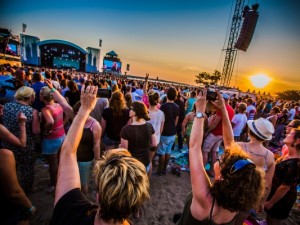 Floriade Expo 2022 in Almere
On 14 April 2022, Floriade opens its gates for six months in Almere. Here you will discover solutions of innovators from home and abroad that make our cities more fun, more beautiful and more sustainable. And you will enjoy the fragrance and colour of flowers, plants, vegetables and fruit. Dive into the theme 'Growing Green Cities' and be surprised!
Plan your route here: https://floriade.com/nl/adres-route/
For all activities that will take place in Almere in 2022, such as music, dance, theatre, culture, art, photography and film, please click on the following URL: https://www.uitinalmere.nl
A few examples:
Beach Festival Zand 2022
Beach Festival Zand is a day long walk on the beach of Almere and enjoy surprising acts and music everywhere. On 20 August, it's time for the thirteenth edition. With the best artists from the Netherlands, it promises to be another wonderful musical beach day. Celebrate summer with your friends one more time at beach festival Zand!
See URL: https://strandfestivalzand.nl
Almere Uitfestival 2022
In the weekend of 23 to 25 September, the Uitfestival Almere Centrum will take place. It's the start of the cultural season. The whole weekend is all about music, dance, theatre, culture, art, photography, film and much more. See URL: https://www.almerecentrum.nl/nl/uitfestival-almere